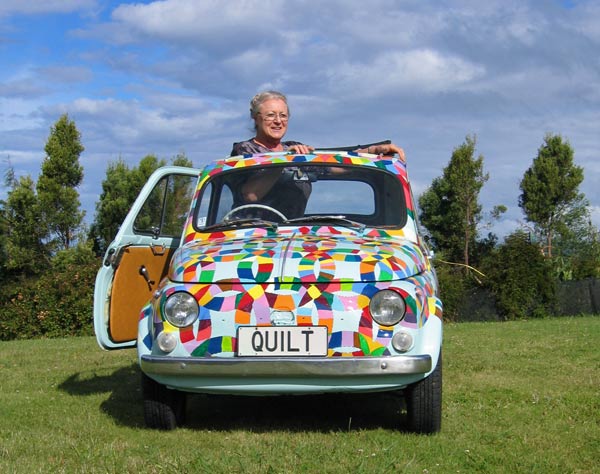 LIZA EASTMAN
"I work at the opposite end of the spectrum from classical quilting."
Liza has been quilting and organising quilting projects since she was eighteen. An active participant in the Golden Bay artistic community, she is a member of the Golden Bay Arts Council and the Golden Bay Patchwork and Quilters' Guild and has coordinated a range of community- based fund raising and teaching projects with the Guild. A number of community quilts made by the Guild are on display in Golden Bay.
Over the years she has won four major prizes at the World of Wearable Arts (WOW) Awards, including First Place in 1994, in the Fletcher Vautier Moore Solicitors Open Section for "Universal Light", a piece lit from within and engineered by her husband, Vic Eastman.
Liza has panels commemorating lives lost in both the American AIDS Quilt Project and the New Zealand AIDS Quilt, and has commissioned works in private collections in both the United States of America and New Zealand and her work has been exhibited in Auckland, Wellington, Nelson, Queenstown, Singapore, Bangkok and the United States of America.
Liza teaches workshops on colour, tips and techniques, different aspects of the quiltmaker's art, and recycled fabric rag rug making; and she enjoys learning about and experimenting with all different fabric and fibre art techniques.